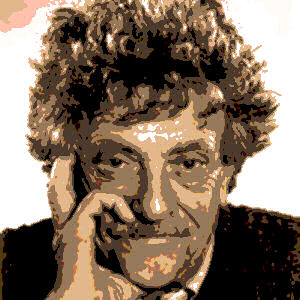 I had heard of Kurt Vonnegut.  It was difficult not to have heard of him.  I had also heard of several of his books.  I had just not got around to reading any of them.
So when, more than 20 years ago, I walked into a shop selling discounted books and saw Wampeters, Foma & Granfalloons, a collection of Vonnegut's opinion pieces, being offered at half price, it seemed as good a place as any to begin my acquaintance with the man then billed as 'one of America's most important contemporary novelists'.
Why I didn't start reading Wampeters at the beginning, I don't recall.  But I didn't.  I started at page 53.  And so the first Kurt Vonnegut words I ever read were: 
'You can't teach people to write well.  Writing well is something that God lets you do or declines to let you do.  Most bright people know that.' 
As far as Mr Vonnegut was concerned, courses and conferences that purported to teach people how to write well were 'harmless'.  But they were also 'shmoos'.  Shmoos was not a word that I knew.  But it didn't sound complimentary. 
And I had a problem.  You see, when I stopped off at the bookshop, I was on my way to   Cambridge to attend a creative writing conference. 
Gee, thanks, Kurt.  Could you not have mentioned all this shmoos business before I paid the non-refundable fee?
Mind you, by the end of the four-day event, I found myself agreeing with pretty much everything Vonnegut had said.  Pretty much.  I also found myself writing pretty much the way Vonnegut was writing at the time.  Pretty much. 
I guess his no-nonsense tell-it-like-it-is approach was pretty infectious.  Perhaps very infectious.  At the Cambridge Creative Writing Conference, it was also very rare.  One of the instructors praised my 'stripped down style'.  She said it was 'clean'.  But she wasn't sure that it was 'commercial'.  I remember the woman making little bunny ear signs in the air when she said commercial.  And I wondered if Mr Vonnegut realised that his simple style was not 'commercial'. 
I have now owned my copy of Wampeters for about 25 years.  And I've probably read it – from cover to cover – at least once during every one of those years.   It's still very readable.  And it still reminds me that there is nothing wrong with keeping it simple. 
Thanks, Mr Vonnegut.