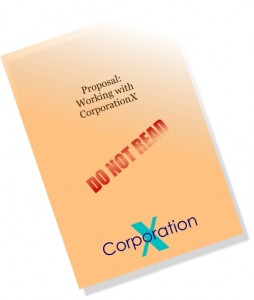 For me, one of the hallmarks of good writing is that each sentence, each paragraph, leads the reader to want to read more.  This is as true of a commercial pitch document as it is of a short story or a novel.
Robert Drewe's novel Our Sunshine, a fictionalised account of the life and death of Ned Kelly, begins with the sentence: 'The lion is out of sorts.'  And immediately we want to know more.  Which lion?  Why?  And what does a lion have to do with Ned Kelly?
Jeremy Clarkson begins one of his weekend newspaper columns with the words 'Making Top Gear used to be easy.'  And we think: Used to be?  Are you saying that it's not easy anymore?  Why not?  Tell us more.
Corporation X, on the other hand, begins a recent pitch document with:
'Corporation X is a leading international provider of proven custom-tailored customer-centric solutions to large and medium sized businesses seeking to utilise leading edge technologies to extend their influence and market share within specific chosen markets and regions both locally and globally.' 
Suddenly the room seems stiflingly hot.  Our eyelids become heavy.  And we fight to stay awake.  And, as one of my colleagues has been known to say: 'Nobody buys much while they are asleep.'
A study by The Pelican Partnership found that fewer than one in ten senior executives reads all or most of documents they receive from organisations that want to sell to them.  Several reasons were suggested.  But, in most cases, it boiled down to the fact that the intended readers didn't expect the experience to be rewarding. 
'I have better things to do with my time,' one senior manager said.
And yet most of the managers admitted to reading all or most of at least three novels a year, as well as countless magazine and online articles.
I think there's an important lesson here for writers of pitch documents: Your competition is not Corporation Y or Corporation Z.  Your real competition is Robert Drewe and Jeremy Clarkson and every other writer who understands how to keep the reader reading.