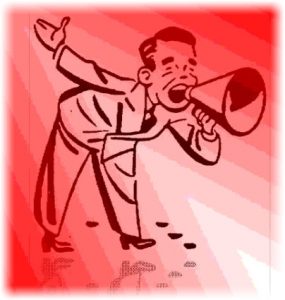 'Please be advised.'  Those were the first three words of an email that greeted me when I sat down at my desk with my first coffee of the day on a recent sunny morning.  What came next, I almost didn't find out.  Anyone who tries to crash the start of my day with the words 'Please be advised' is just asking to be ignored.  And the chances of me being advised are greatly diminished.
Many years ago, I got a job with a small but very successful advertising agency.
I had applied for a position as a junior art director, but after a long conversation with the head of the creative department I found myself being offered a job as a writer.  'Look, if it doesn't work out,' the creative director said, 'we'll see if we can find you something in the art department.  But I think you're a writer.  In fact, I'm sure that you're a writer.'
To be honest, I didn't really have any idea what a writer did – not in an advertising agency anyway.  I'd been planning on a long and successful career as an art director.  But being a writer would at least get me 'in the door', so I said yes.
The first thing I learned was that good writers don't really write; they converse on paper (or, more and more often these days, on screen).  Good writers aren't really copywriters; they're copychatters.
'Just imagine that your reader is sitting across the desk from you – maybe with a cup of coffee or something stronger.  You don't need to shout at them, because they are right there.  And you certainly don't want to lecture them, because they are likely to just get up and walk off,' Don said.
The second thing I learned was that good writers make promises on behalf of their clients – but they never over-promise.  'If you promise something that your client can't deliver, then everyone loses.'
Don's third 'rule' was that good writers never show off.  'It is likely that your vocabulary has twice the number of words as the vocabulary of your average reader.  But there's little point in speaking to your reader in a language that he or she doesn't understand.  Keep it simple.  Keep it real.'
I was telling a friend about the 'please be advised' email.  'Oh well,' he said, 'that's what happens when you let amateurs loose on a keyboard.'
'Amateurs?'
'Well, the people who write these things are not being paid to write, are they?'
And that's where I had to disagree.  If your job involves writing – in any form – then you're being paid to write.  And you owe it to your paymaster to try to write like a professional.