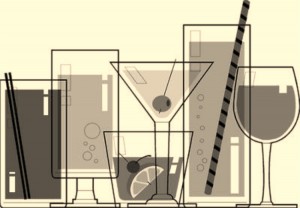 Words have always fascinated me. Even before I could read I wanted to know why certain words were the way they were. Unfortunately, there has never been any shortage of people ready and willing to provide answers.
Take bloody – as in 'a bloody good effort'. I remember the headmaster of my primary school generously explaining this one.
He assured me – with the unchallengeable authority of a headmaster – that bloody was a late-18th century contraction of By Our Lady. 'A bit like fo'c's'le,' I remember him saying.
But, as I later discovered, John Dryden used 'bloody drunk' as long ago as 1684, by which he meant 'as drunk as a blood', 'as drunk as a lord' – a blood being an aristocratic rake of 'good blood'. And soon after that all sorts of people were being bloody passionate and bloody clever. Well, they still are, aren't they?
Well-meaning pedagogues also assured me that posh was derived from 'port out, starboard home', the cabin requirements of well-to-do folk travelling by sea between England and India. The abbreviation – POSH – was supposed to have been printed on their tickets. But it seems that not a single one of these posh tickets has survived. Which is a pity.
Could posh have is simply been borrowed from the long-established cant term for money?
I can't recall who first told me about James Daly. But I do remember thinking that his was an interesting story. Really interesting.
Mr Daly was a Dublin impresario who is supposed to have wagered some friends that he could introduce a new word into the English language within 24 hours. With the bets in (the story goes) Mr Daly papered Dublin with posters bearing the letters Q, U, I, and Z. And the following day, all of Dublin were talking about the mystery that was quiz.
Alas, Mr Daly's posters seem to have suffered the same fate as the posh tickets. Could the Latin Qui es? (Who are you?) be a more likely source?
Yet another elusive character from the world of dead certain explanations was Mr Edward Booze's booze. Mr Booze was a Prohibition entrepreneur who made hard liquor and sold it in distinctive log-cabin-shaped bottles. Or at least, that's what I heard. But evidence of Mr Booze's enterprise is as hard to find as evidence of the posh tickets and Mr Daly's posters.
Could it be that the 14th century word bouse meaning 'to drink deeply' or 'to guzzle' was the true origin? The word went out of fashion for a while in the 15th century but then made a comeback late in the 16th century. And, since then, while the spelling has wandered about a bit, the word itself has never really left.
Words still fascinate me. But these days, when someone gives me a superficially-beguiling explanation of a word's origin, I tend to ask if they have any evidence to go with their explanation. – Jack Scrivano