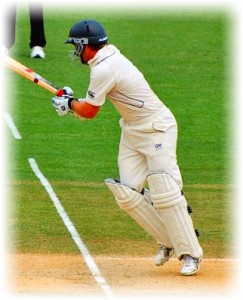 One of my earliest memories of TV is of watching an hour or so of a cricket match.  I think the match may have been a test match between England and South Africa – although I can't be sure. 
The picture was in soggy shades of grey, and the camerawork was extremely basic.  But what really made an impression was not what I was seeing, but what I was hearing.  It may have been the very first time that I heard a cricket commentary.
Thanks to the detailed language of cricket, it is entirely possible (with the help of a good commentator or two) to watch a match with your eyes closed.  If the bowler bowls a ball of a good length, just outside off stump, and the batsman manages to open the face and steer the ball down through the vacant third man position for another boundary, you know exactly what is going on.
But, over the past few years, I've noticed that the language of cricket is changing.
The pitch on which the game is played has become the wicket.  In modern parlance, the curator (who used to be the groundsman) is said to have prepared 'a first class wicket full of runs'.  (On occasion, this may also be described as a first class track.)  
Of course, this use of wicket is not to be confused with the stumps at either end of the wicket – which are also known as wickets – or the wickets that bowlers take by participating in the dismissal of batsmen.  'Roneel Hira picked up three wickets for just 19 runs.'
The batsman (and it does always seem to be a batsman – even when the batsman is a woman – is increasingly referred to as the batter, perhaps to put him (or her) on an equal footing with the bowler.
If the bowler is a fast bowler, he (or she) is now often referred to simply as a quick – pressing an adjective into service as a noun.  While wide, another adjective, is pressed into service as a verb when umpires wide a delivery which, in their view, is too far outside off stump to allow the batter to play 'a proper cricket shot'.  (It also seems to have become a convention, in all short forms of the game, to wide all deliveries down the leg side.)
A batsman who gently pushes the ball into a space in order to take a quick single is said to be nurdling.  This usage has been around for some time.  But commentators do seem to have greatly increased the frequency of its use in recent times – perhaps because, in limited-overs matches in particular, batsmen (or batters) try to score off every single delivery.
Happily, the names of the fielding positions (fine leg, square leg, midwicket, long on, etc) have remained largely intact.  But I've noticed that it is increasingly common to refer to a deep fielder who covers a broad section of the boundary as a sweeper.
I wonder what W G Grace would make of a modern cricket commentary.