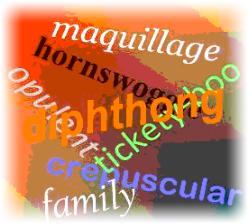 Lately, there have been a number of informal surveys and discussions aimed at trying to find 'the best word ever' – a sort of Number One on the hit parade of the English lexicon.  Unfortunately, the criteria by which the candidate words are to be judged have been left largely to those taking part in the various surveys.  And everyone seems to be using slightly different criteria.
Some respondents appear to favour utility, throwing their weight behind humble everyday words like 'us', 'family', 'home', 'love' and 'friendship'.  For others, the sound of the word is all important.  'Smooth', 'harmonious,' 'crepuscular', 'luxurious', and 'opulent' are some of the words chosen for the ease with which they trip – mellifluously – off the tongue.
Many people have nominated multisyllabic words that lean towards the whimsical – flibbertigibbet, for example, and tickety-boo.  And a surprising number of words temporarily borrowed from other languages have made it onto some of the long lists.  Both maquillage and schadenfreude have garnered support even though neither word has yet been fully adopted into the English language.
In one of the few surveys to reach something of a conclusion, the final shortlist included 'gherkin', 'kerfuffle', 'diphthong', and 'hornswoggle'.  And the winner was … drumroll, please … 'diphthong'.  Goodness knows why.