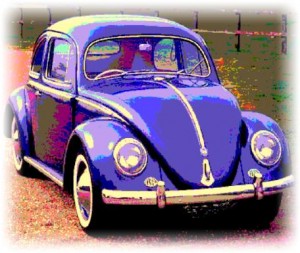 In what now seems like another life, I used to write copy for a number of internationally advertised brands and products.  One of my favourite products in the early days was Volkswagen – in particular, the 'ugly duckling' that was the VW Beetle.
By the time I got involved with VW, the look and tone of the brand's advertising had been pretty well established by the legendary Doyle, Dane, Bernbach creative team of Gene Case and Helmut Krone.
Some of my colleagues found this unwritten prescription quite irksome.  But I always found it strangely liberating.  You already had a good idea of what the ad was going to look and feel like, from there it was just a matter of working out what the ad was going to say, and then saying it with the style, sophistication, and humour that was the VW way.
I was so comfortable with the Case-Krone approach that I sent Gene Case a note asking if he had any tips he'd like to share.  His reply was brief and to the point: First write the billboard.  And if the campaign doesn't call for a billboard, write one anyway.
It was good advice.  There is nothing quite like getting your message down in a single sentence – one that both says what you need to say and says it with the desired tone and style – to sort out your thinking.  It works for advertising.  It also works for just about any other piece of written communication.
Try it next time you sit down to write a report or a proposal.  Or even next time you need to write an important email.  I think you will find that it makes writing the full version of whatever it is that you are writing very much easier.