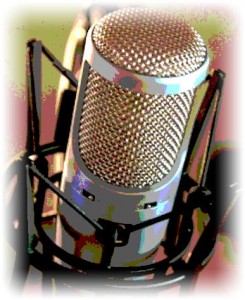 My mother – who is old and, therefore, can sometimes pass as wise – reckons that the first TV programme I ever saw was Andy Pandy.  Or, possibly, Bill & Ben the Flowerpot Men.  She may be right.  I don't remember.
What I do remember is watching a game of cricket.  It was a test match.  I think it was England playing South Africa.  But it may have been England playing Australia.  Either way, the picture was in soft shades of grey.
I was about four or five at the time.  I knew a bit about cricket because my father played club cricket and my mother would often take my sister and me to watch him bowling slow leg breaks and batting in the middle order.
The best part about watching cricket on TV was not the picture (let's face it, the pictures back in those days were not very good).  No, what made watching cricket interesting and entertaining was the commentary: two or three witty and informative chaps chatting about cricket and life in general and, occasionally, commenting on the game that was in progress.  Almost without exception, they were worthy of the appellative wordsmith.
Funnily enough, as I grew up, I watched very little cricket on TV.  Instead, I watched it at the park or I listened to it on the radio.  At the park it was in colour; on the radio it was in Technicolor.
Cricket is one of the few games that I can think of that you can 'picture' without needing to see it.  There is an off side and an on side (also known as the leg side).  There are 25 or 30 clearly defined fielding positions – from deep fine leg via deep backward square and deep mid-wicket to long on; and from long off all the way around to point, third man, and various gullies and slips until you get to the wicket keeper.
And pretty much every batting stroke has its own name.  When the commentator announces a cover drive or a square cut (or, heaven forbid, a French cut), you know that it is definitely not a hoick to cow corner.
One of the things that I took for granted as I listened to the chaps in the 'combox' was that they did their best to be neutral.  They may have been from England or from India or from South Africa, but it was clear that they wanted cricket to be the winner.  Credit fell where credit was due, but the real winner was always the game itself.
And then one day, when I was temporarily distracted, one of the Australian TV channels apparently decided that it would pull in bigger audiences if they replaced neutral commentators with out and out Aussie cheerleaders.
To his credit, former Australian cricket captain Mark 'Tubby' Taylor has declined to join in the game of 'hooray for our side and bugger the others'.  But, as for the rest of them, I now prefer to watch with the sound off.
In my view, the loser in all of this is not the team that comes second, but the game itself.